Update on Lithium Clay Deposit Development in Western USA and Mexico
by C. Tucker Barrie, Ph.D., P. Geo., President and CEO, Noram Ventures Inc. TSX-V:NRM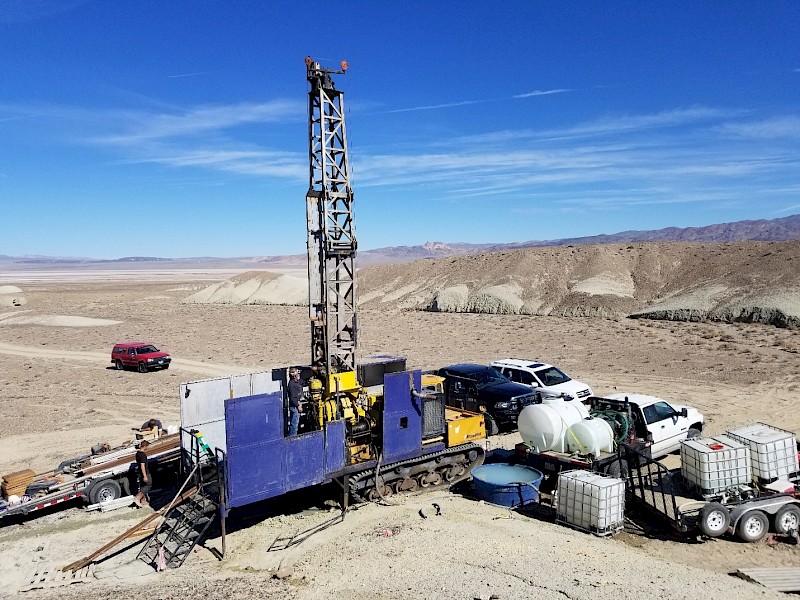 Drill Rig on Zeus Lithium Clay Deposit, Clayton Valley, Nevada in 2018. Albemarle's Silver Peak
lithium brine operations are 2 km to the west, to the left of this drill hole.
Summary
Noram Ventures Zeus lithium clay deposit in Clayton Valley, Nevada with inferred resource of 145 million tonnes at 1145 ppm Li (0.88 million tonnes lithium ca rbonate equivalent) , unconsolidated non-refractory clays at surface, open for expansion in two directions and at depth, potential for pre-processing concentration.
Other advanced lithium clay projects
Cypress Development Dean lithium clay project, adjacent to Zeus deposit, with Preliminary Economic Assessment in progress with initial favorable economics, non-refractory clays at surface, very low stripping ratio, deposit characteristics nearly identical to Zeus although slightly lower lower grade
Ioneer Ltd Rhyolite Ridge lithium-boron project, Nevada, at pre-feasibility study level of study, favorable economics, although more complicated mineralogy than Zeus project
Lithium Americas Thacker Pass lithium clay deposit, northern Nevada, under Feasibility study and slated for production in 2022, operating pilot plant producing lithium carbonate, final permitting underway
Bacanora Lithium Ltd. Sonora lithium project in northern Mexico, under Feasibility study, recent significant investment by Ganfeng Lithium (China), slated for production in 2022, mineralogy more complex than that of Zeus deposit
US Congress meets with industry to discuss lithium supply within USA for electric vehicle batteries over next decade
Tesla and other electric vehicle manufacturers show heightened interest in vertical integration to source lithium supply
Lithium clay deposits represent a significant and as yet untapped natural resource. Along with lithium brines and pegmatites, they can supply the exponentially growing lithium battery market for electric vehicles, as well as for laptops and cell phones. Current indications are that lithium clay deposits have favorable economics that are comparable to large lithium brine projects in Argentina and Chile.
Noram Ventures Inc. (TSX-V: NRM www.noramventres.com ) has a significant early stage lithium deposit in Clayton Valley, Nevada, adjacent to North America's only lithium brine producer, Albermarle's Silver Peak operations. Noram released an updated NI43-101 inferred resource report earlier this year for the Zeus lithium clay deposit: of 145 million tonnes at a grade of 1145 ppm lithium (see Table 1, Peek and Barrie, 2019; and Noram website). The higher grad parts of the Zeus deposit are open to the east, south and at depth, indicating that the resources can be expanded significantly with further drilling. Initial sequential leach testing of the Zeus lithium clay indicates that >80% of the lithium is extractable at 80oC over a 2-3 hour period with moderate concentrations of sulfuric acid.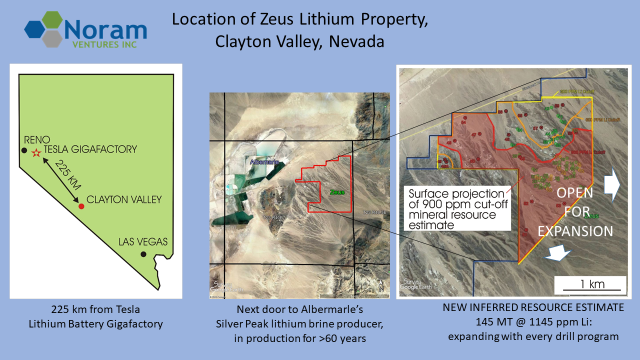 Table 1. Inferred resources for Noram Ventures' Zeus Lithium Deposit, Clayton Valley, Nevada.
Cutoff Grade

@ 300 ppm

@ 600 ppm

@ 900 ppm

Tonnes (1000s)

330,670

251,526

145,168

Grade (ppm)

858

984

1145

Contained Li (kg)

283,796,297

247,569,218

166,238,452 
On an adjacent property, Cypress Development Corp. has a similar lithium clay deposit within the same paleo-playa lake bottom sediments of the Esmeralda Formation. Cypress' deposit has nearly identical lithium-extractable clay mineralogy to that of Noram's Zeus deposit. Cypress reported a Preliminary Economic Assessment for their Dean deposit in 2018 (see Table 2).
Three other lithium clay deposits of significance have been outlined in North America and are more advanced in terms of engineering studies. Ioneer Ltd. (ASX – INR) has the Rhyolite Ridge lithium – boron deposit in Nevada. Lithium Americas Corp. (TSX-LAC) has the Thacker Pass lithium deposit in northern Nevada, and Bacanora Lithium Plc. (AIM – BCN) has the Sonora lithium clay deposit in Sonora, Mexico (see Table 2). The Thacker Pass project and the Sonora project are slated for production in 2022, and have operating pilot plants that successfully produce a marketable lithium carbonate product.
Although Noram's Zeus Project is at an earlier stage, it has several favorable features in comparison to the other lithium clay projects, including: 1) non-refractory and relatively simple mineralogy of lithium clay; 2) unlithified sediments at surface that can be mined with a very low stripping ratio; 3) presence in a very favorable and stable mining jurisdiction in Nevada; 4) precedence for mining and for lithium extraction in the immediate vicinity in Clayton Valley; 5) potential for upgrading effective grade through pre-concentration of lithium clays via separation sand and gravel. In addition, Noram benefits from the excellent engineering work by neighbor Cypress Development Corp which has a lithium clay deposit that is nearly identical (albeit at a slightly lower grade than) to the Zeus deposit..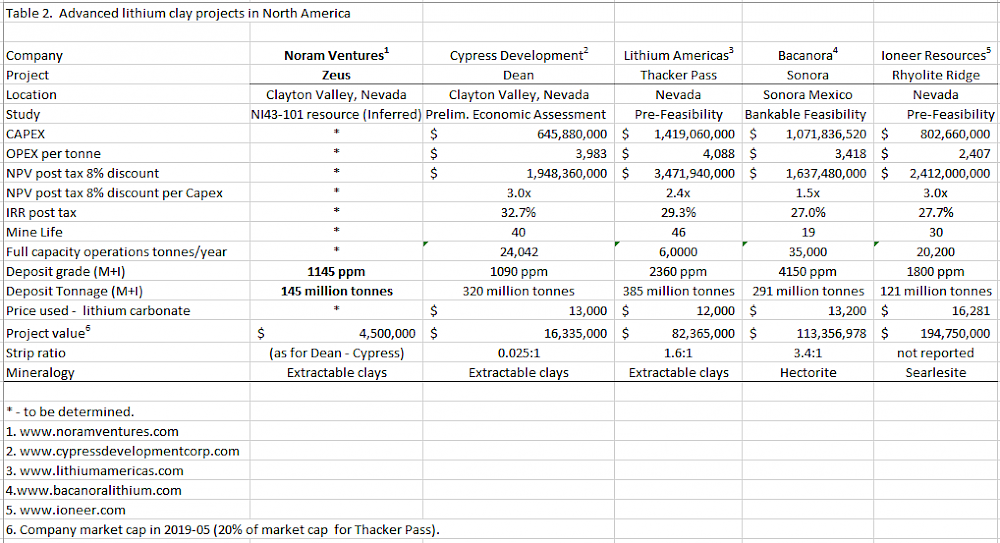 Recent developments for other lithium clay deposits/projects
Cypress Development Corp. - Dean Project
Cypress Developments Dean lithium clay deposit, adjacent to Noram's Zeus lithium deposit in Clayton Valley Nevada, has been advancing in 2018 and 2019 with a second Preliminary Economic Assessment study aimed at more closely defining resources with drilling, and with continuing metallurgical studies. Some of the economic parameters are given in Table 2. These include a favorable NPV (8% discount) of $US 1.9 billion, and a very low stripping ratio for the surface mineable unconsolidated clays. In February 2019 Cypress posted an update on lithium recovery using a sulfuric acid leaching process and precipitation of magnesium and calcium sulfates with purification and evaporation steps. They continue to test different types of ion exchange resins and membranes. Much of the testing by Cypress is relevant to Noram's Zeus deposit which has nearly identical mineralogy.
Ioneer Ltd. - Rhyolite Ridge Project
Ioneer completed a pre-feasibility study on their Rhyolite Ridge lithium-boron deposit, which ls located 25 km west of Clayton Valley, Nevada. Their deposit has lithium within clay minerals and boron within borates, searlsite in particular. Initially Ioneer considered a heap leach operation for their more lithified material, however they have recently determined that a vat leach process using sulfuric acid is more effective for their deposits. They estimate that the revenue generated from boron production will cover all operating costs for lithium extraction. They target completing a Definitive Feasibility Study in Q3 2019. Economic parameters are summarized in Table 2.
Lithium Americas – Thacker Pass Project
Lithium Americas Thacker Pass lithium clay project has progressed significantly recently, with the completion of a Pre-Feasibility study in Q3 2018, and with the construction and commissioning of a pilot plant in Reno, Nevada. The company is considering producing lithium carbonate and possibly lithium hydroxide directly from lithium sulfate to provided added flexibility to market demand. Environmental and mine permitting are underway with the Bureau of Land Management, and the project is slated for production in 2022. Summary economic parameters are given in Table 2. The company is evaluating potential partnership and financing scenarios for the project.
Bacanora – Sonora Project
Bacanora Lithium has advanced its Sonora lithium project significantly in terms of financing recently. On May 20 2019, Ganfeng Lithium, one of China's largest lithium producers, signed a non-binding agreement for strategic investment in the company and in the Sonora Lithium Project in Mexico. The investment would amount to >22 million pounds (~$US27.9 million ) to obtain 50% of the project, and the rights to 50% of the lithium carbonate offtake over the life of the mine. Bacanora has been operating a pilot plant that produces lithium carbonate for several years, and is slated to go into production in 2022. Summary economic parameters for the project are given in Table 2.
Lithium price stability and poised for recovery
Recent statements by Tianqi President Vivian Wu, President of Tianqi lithium (top 3 global lithium producer) were noted mid May 2019 and reported in the Financial Times*. Ms. Wu noted that the top lithium producers are forging long term contracts that help the lithium market grow in a sustainable, stable and predictable way that doesn't rely on subsidy policies. She sees the lithium price poised for recovery, from a low of ~$US 11,500 per tonne for lithium carbonate.
References
Peek, B., and Barrie, C. T., 2019, Updated Inferred Resource Estimate, Zeus Lithium Property, Clayton Valley, Esmeralda County, Nevada, USA, 62 p.

*www.ft.com/content/872bcfce-7279-11e9-bbfb-5c68069fbd15