Noram's land position in Clayton Valley, Nevada consists of 146 placer claims and 136 lode claims. The land package covers 1,133 hectares (2,800 acres). The perimeter of Noram's claims are located within 1-mile (1.6 kilometers) of Albemarle Corporation's (Albemarle's) lithium brine operations. Lithium is produced at Albemarle's plant from deep wells that pump brines from the basin beneath the Clayton Valley playa. The plant is the only lithium producer in the United States and has been producing lithium at this location continuously since 1967. Between Albemarle's operations and Noram's land position lies a property comparable in size to the Zeus Property and held by Cypress Development Corp.
Phase V Drilling – Resource Estimate
Five phases of core drilling between 2016 and 2021 have provided a basis for an updated lithium resource for Noram's property in Clayton Valley, Nevada. The Phase V drilling program completed 8 holes in Q1, 2021. All 8 holes intersected high grade lithium claystone and resulted in a dramatic increase in the Company's resource, recently reported September 2021. Base case at a 400 ppm lithium cut-off grade, the Zeus deposit has 363 million tonnes at 923 ppm lithium measured + indicated resources, and 827 million tonnes lithium at 884 ppm lithium inferred resources. The deposit occurs at or near surface.
Open at Depth
The lithium assays from the drilling provide results that are reasonably consistent over a large portion of Noram's Zeus claims. The model generated for the mineral resource estimate indicates zones of high lithium grades that remain open at depth in several areas of the deposit . 55 of the total 70 holes used in the deposit model stopped in material that assayed above the 400 ppm Li cut-off, so there is potential to increase the deposit size through deeper drilling.
Large Resource Size Increases
70% Increase in Measured + Indicated Resources
In February 2020, Noram reported an indicated resource of 213 million tonnes at 976 ppm Li (LCE = 1.11 million tonnes) at a cut-off grade of 300 ppm. The updated 2021 Measured + Indicated Resources is 363 million tonnes at 923 ppm Li at cut-off of 400 ppm (LCE = 1.78 million tonnes). That is a measured + indicated tonnage increase of 70% and an LCE increase of 60% at a higher cut-off grade than the one used in 2020. Some of the resources have also been upgraded from indicated to measured.
369% Increase in Inferred Resource
The 2020 announcement had an Inferred resource of 194 million tonnes at 807 ppm (LCE = 0.83 million tonnes) at a 300 ppm cut-off. The 2021 inferred resource is calculated at 827 million tonnes at 884 ppm Li (LCE = 3.89 million tonnes) at a 400 ppm cut-off. This represents an increase in the inferred resource tonnage of 326% and a 369% LCE increase, also at the higher cut-off grade.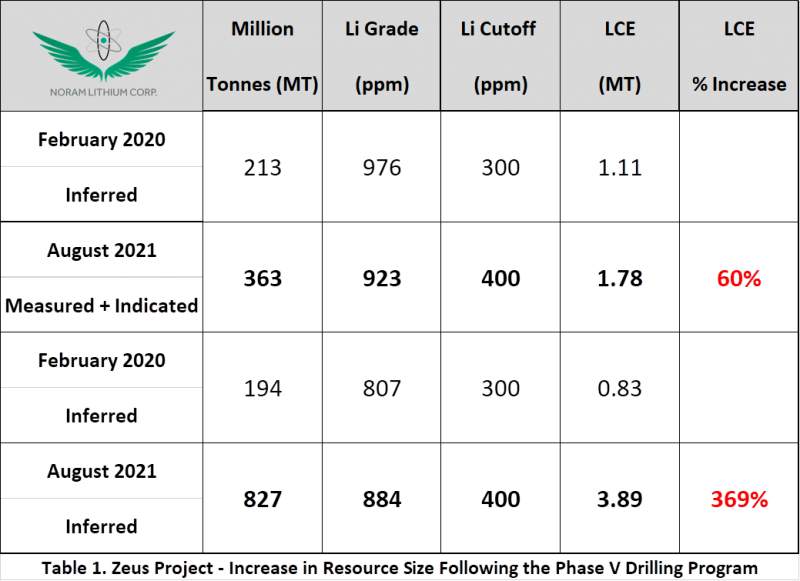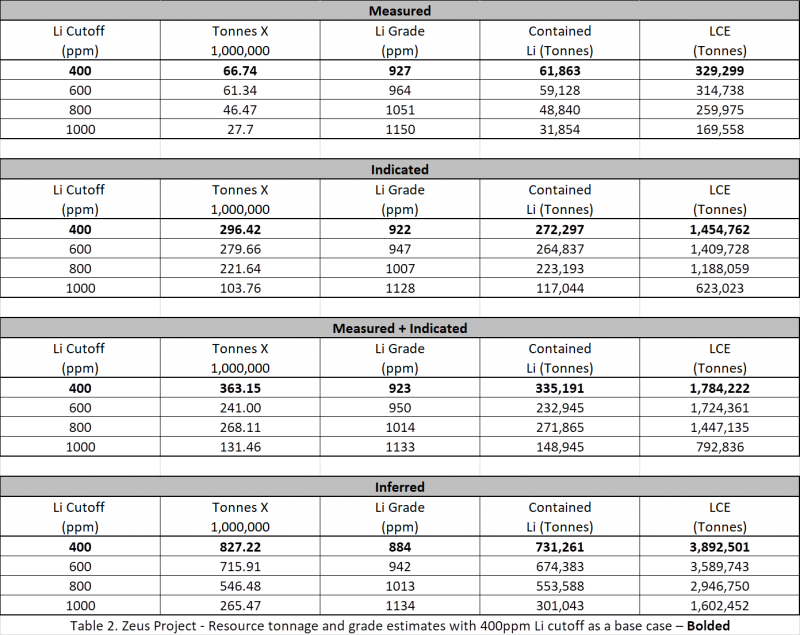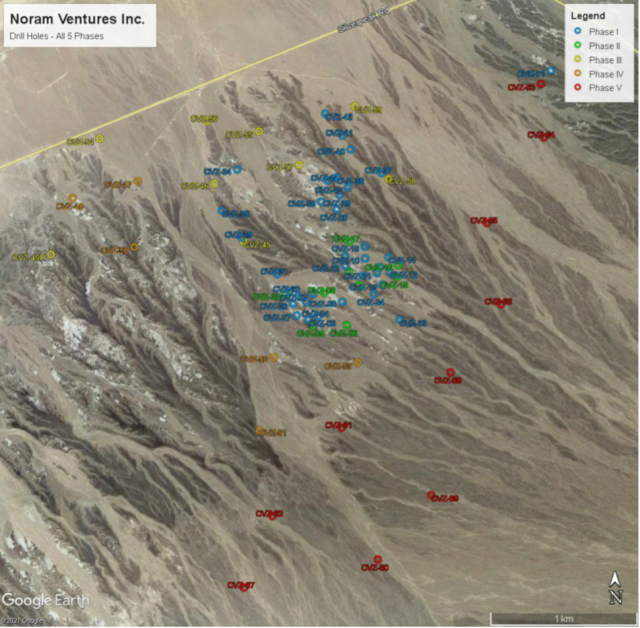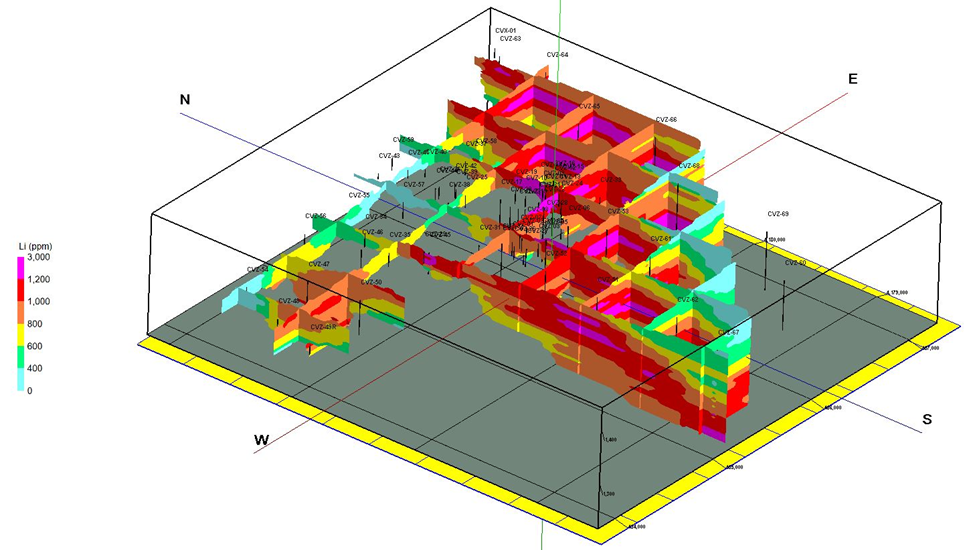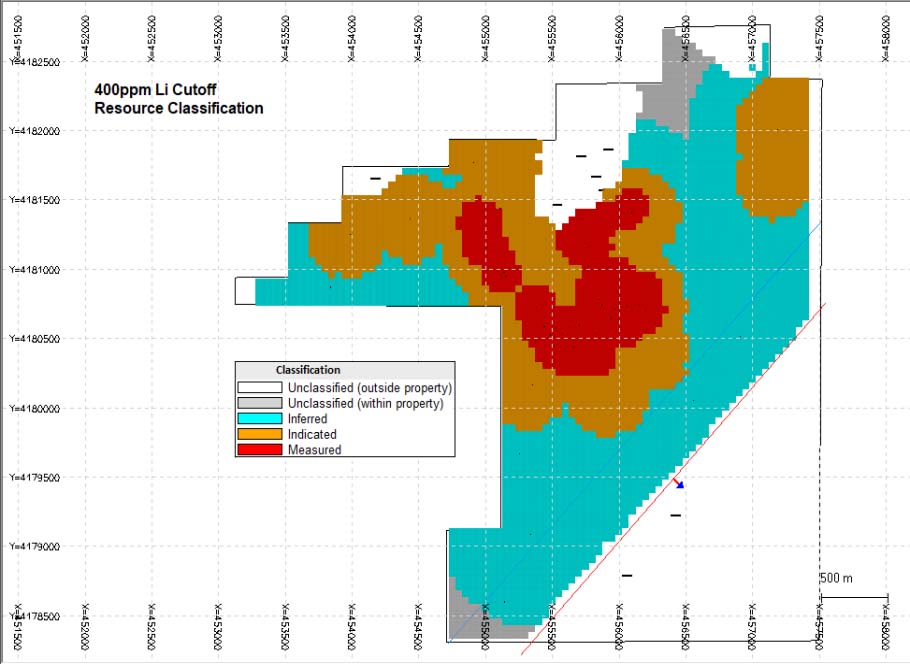 Mineral Processing and Metallurgical Testing
2018
Initial mineralogical studies and leaching tests were conducted on Zeus lithium clay samples in 2018, including work by Actlabs of Ancaster, Ontario, and Autec Innovative Extractive solutions Ltd., Vancouver, British Colombia. Results of initial leach tests are highly encouraging. They suggest that only moderate temperatures and moderate amounts of sulfuric acid are necessary to remove >80% of the lithium in the samples. Further testing is necessary to develop sequential precipitation of magnesium (and other cation) sulfates prior to precipitating lithium sulfate for conversion to a marketable lithium carbonate (or hydroxide) product.
2020-21
Several tests were conducted to ascertain the effectiveness of using hydrochloric acid (HCl) and salts (NaCl and KCl) to get the lithium into solution. Most developers of lithium clay deposits have been using processes that rely on sulfuric acid (H2SO4) to extract the lithium from clays. However, there has been some recent references that indicate that a chloride-based system may have advantages.
The results indicate that increases in time, temperature and HCl concentrations increased the extraction of lithium from the sample. Results also indicated that higher concentrations of NaCl were detrimental to the extraction process.
Considerable additional testing will be required to refine the process flowsheet for the Noram clays. However, the above tests offer some insight into a possible alternative process involving a chloride-based system rather than the sulfide-based process work being employed by most competing companies.
Other Projects Testing Extractive Technology
There are several companies currently involved in testing their lithium claystone deposits and the extractive technology involved. The companies that have announced resource and reserve data are listed below with their forecast percent lithium recovery.
Project

Thacker Pass

TLC
Property

Clayton Valley Lithium

Sonora Lithium1

Rhyolite Ridge2

Location

Humboldt Co. NV

Nye Co., NV

Esmeralda Co. NV

Sonora, Mexico

Esmeralda Co. NV

Company

Lithium Americas

American Lithium Corp.

Cypress Development Corp.

Bacorona Minerals Ltd.

Ioneer Ltd.

Latest Report

Prefeasibility

Technical Report

Prefeasibility

Feasibility

Definitive Feasibility

Report Date

August 1, 2018

May 4, 2020

August 5, 2020

January 1, 2018

April 30, 2020

Recovery (%)

83

80

83

75

85-95
Notes:
The Sonora Lithium deposit differs from the others in that they pre-concentrate and then roast the clay material, probably because some of the lithium clay is refractory.
At Rhyolite Ridge the processing also recovers boric acid as a co-product with the lithium.
The fact that these companies have achieved their announced recovery rates and are moving toward production is a strong indication that lithium clay deposits appear to be viable alternative to the existing lithium brine and hardrock lithium operations. It is also a strong sign that Noram's deposit has a reasonable prospect of eventual economic extraction.